BECOME
E-MUDHRA DIRECT SALES PARTNER (DSP)
&
START YOUR OWN DSC FRANCHISE BUSINESS
GET FREE REGISTRATION
ISSUE DIGITAL SIGNATURES FROM YOUR OFFICE
DO DIRECT BUSINESS WITH EMUDHRA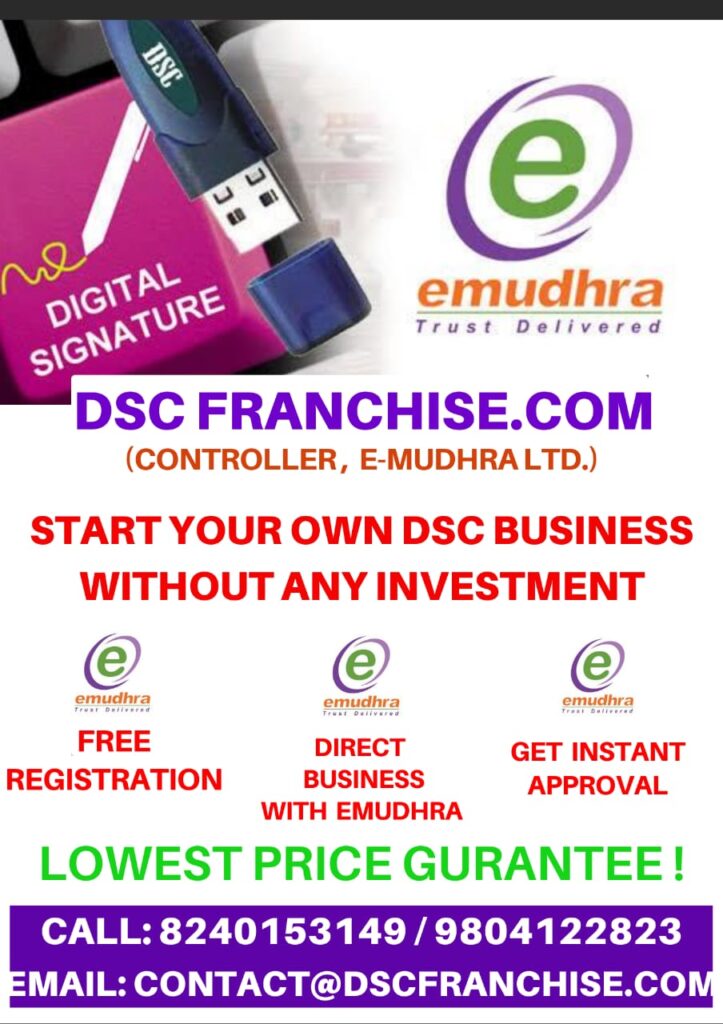 SALIENT FEATURES :-
Start with a minimum stock of only 1 Qty DSC Stock
Do Direct Business With E-Mudhra
Very much Cost Effective.
No Expiry date for unused DSC in stock
ZERO INVESTMENT / SECURITY MONEY other than cost of DSC & USB TOKENS
Single & Direct Login Window at E-Mudhra website.
No need to depend on anybody else.
Issue CLASS 2 / CLASS 3 & DGFT DIGITAL SIGNATURES from the same LOGIN ID.
NOW A DAYS, THE AVERAGE RETAIL PRICE CHARGED BY ANY SERVICE PROVIDER FOR DSC WITH 2 YEARS VALIDITY IS AROUND RS 1000,
STOP PAYING THESE HIGH PRICES !
NOT ONLY SAVE YOUR MONEY !!
BUT EARN FROM IT !!!
CONTACT DETAILS
Mobile / Whatsapp : 8240153149 / 9804122823 / 9007959895
Email: contact@dscfranchise.com